The State Death Tax Manager manages the tax tables and information needed to do estate and inheritance tax calculations for all 50 states. When you run the software, a list of all the states is displayed on its main window.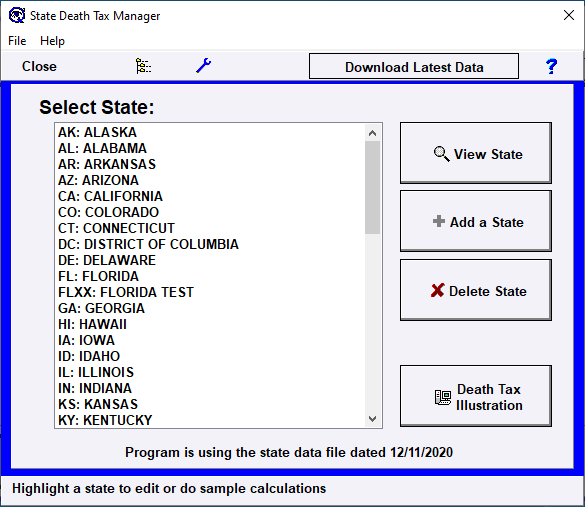 View State - Clicking this button displays a window containing the data currently being used to calculate the selected state's estate tax and inheritance tax.
Add a State - Click this button to add your own state.
Delete State - Click Delete State to remove a state that you've previously created.
Death Tax Illustration - Click this button to view a sample calculation for the selected state.
At the top of the main window, there is also a button to download the latest data through the internet. When you download this data, the software will update the states with the latest information from our website. It will not change any of the states that you have created.
You can also change where the data file is stored by selecting Change File Location from the File menu.
If the State Death Tax Manager cannot access our web site, because of a corporate fire wall or other such security mechanism, you can also download the data file directly from here: See article, 'Importing the latest data file' for more information.